Welcome to Catholic Schoolhouse
Catholic Schoolhouse is designed to help homeschool families enrich their educational experience through a flexible approach to learning inspired by classical elements, presented in a structured environment. Children study the same topics in the grammar program, delving deeper into the material as they grow older. The whole family has a place at Catholic Schoolhouse. Dialectic students have opportunities for discussion, logic development, and speaking, while staying focused on the fine arts and history time periods of the tour guide to facilitate family cohesiveness. Catholic Schoolhouse is more than a day out of the house; it can help bring structure and cohesiveness to your entire homeschool experience and will bless your family.
The Rapid City Chapter offers the following classes for the 2017-18 school year:
For the  2017-2018 school year our history studies will cover US History and SD History. Geography encompasses the 50 states and capitals with regional geographic features while our quarterly science focus will be zoology, weather, the human body and Electricity and Magnetism. Our religion focus for year 3 includes Psalm 23, Basics of the Faith and the Magnificat. Also included is Native American Art, Hudson River School, quilts and American artists.  Composers covered will be Bach, Beethoven, Sousa and Joplin. Students will learn the Sanctus, Gloria Patri,  Blessing Before Meals and the Pater Noster in Latin.
The Grammar/Dialectic Level classes include Memory Work in eight different subjects areas (history, science, Latin, geography, fine arts, religion, math and language arts) along with oral presentations and hands on art and science.  Dialectic will also include literature study and Socratic Discussion.
Preschool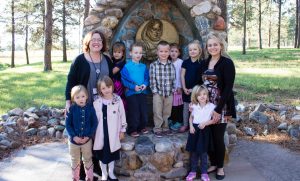 Grammar A

Grammar B

Dialectic
(Picture to come)